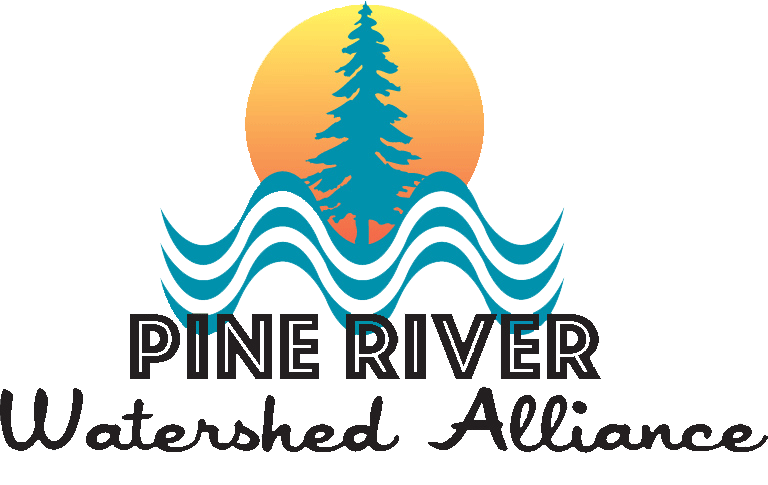 Thank You For Your Generous Support of The Pine River Watershed Alliance!
Get Informed. Get Involved. Make A Difference.
Comments from the Chair October, 2021
A communication process is happening even with COVID that is allowing us to move forward on Pine River Comprehensive Watershed Management Plan. As we are working with Lake Associations on their Lake Improvement Projects we have noted one critical item. Present improvement projects contribute to reduction of phosphorus but we need other steps in reducing larger phosphorus coming into our lakes. Although the work on lake shore protection, storm water and sustainable land management have benefits and need to be continued, most lakes have a larger impact from nutrient loading coming from their watershed.
Nutrient loading comes both from new sources and residual which has been deposited in the watershed over hundreds of years. This residual resides in the wetlands and water that end up in our lakes. As we work the 1W1P efforts it has become clear that we need to have bigger wins in the reduction of pounds of phosphorus from the system than just focusing on new sources.
Over the years I have learned about two methods for the removal of phosphorus. One is filtering water with a medium which captures the phosphorus and the other is the removal of sediment containing phosphorus from a wetland. Both have been used in Minnesota. The technology of filtering is new and removal of sediment is very expensive. Bone Lake close to the Cites had one wetland that was causing their lake to turn green. Comfort Watershed District Forest Lake completed a feasibility on Bone Lake. The feasibility study determined that the wetlands adjacent to the lake contained Phosphorus-rich sediment from the northern portion of a wetland directly adjacent to Bone Lake. The history indicated the wetland had received direct runoff from an old Dairy Farm. Link to the feasibility study: https://www.clflwd.org/documents/Bone NE Wetl Feas Report 5-18-2021 wApp.pdf.
They cleaned up the wetland and replanted it and did an alum treatment of the Lake with a price tag of $1.6 Million. It worked to reduce the Lake to below impaired status.
Even though removal is expensive and filtering is not yet a main stream technique, we believe we need to investigate the options we may have and get some proposals. Partners will pursue price quotes from consultants regarding this type of work. The Crow Wing SWCD Board and the 1W1P Policy committee will review these options. Once quotes are received partners will discuss possible funding options. We simply need larger projects with significant reductions in phosphorus to get ahead of the nutrient loading curve and meet our 1W1P goals. These efforts will create some very interesting times.
Even when you are fighting the good fight to protect our beautiful area it does cost money. We will see what making significant removal of phosphorus will potentially cost. It is no different with the operating expenses of PRWA. Our administrative expenses have climbed. The need for Administrative, Website and Financial services have driven this up.
PRWA has been blessed with tremendous financial support from a rather small membership when you consider the watershed has 17,000 residents. Also the inability I have had to add Board members has had the effect that we need to contract for services.
I hope our membership will continue its support of us and I ask for help in two areas. First, please help us find new Board members. Working at a watershed level is a difficult concept to picture. Protecting
your lake, which you can see out your window, is easier to grasp. But the reason we have a watershed organization is we realized it is the greatest impactor to maintaining healthy lakes. Second, please help build our general membership by talking to your friends and neighbors.
Ron Meyer
Land and waters preservation trust grant application
One Watershed One Plan Summary
What is One Watershed One Plan?
It was developed by following the guidelines set the BWSR, and aligns with water planning along watershed boundaries, and enhances the existing county water plans.
Pine River Watershed Alliance Annual Meeting is held in June.
6/15/2021 Annual Meeting
3:00 pm Ideal Town Hall or Zoom
NWLT & CW SWCD will be speaking about Easements and their available programs. All are invited to attend the Annual Meeting and speakers.
2020 Photo Contest Entries
Looking for MN soil health info?
Soil Health Education Resources